Buildings and architecture
Buildings and architecture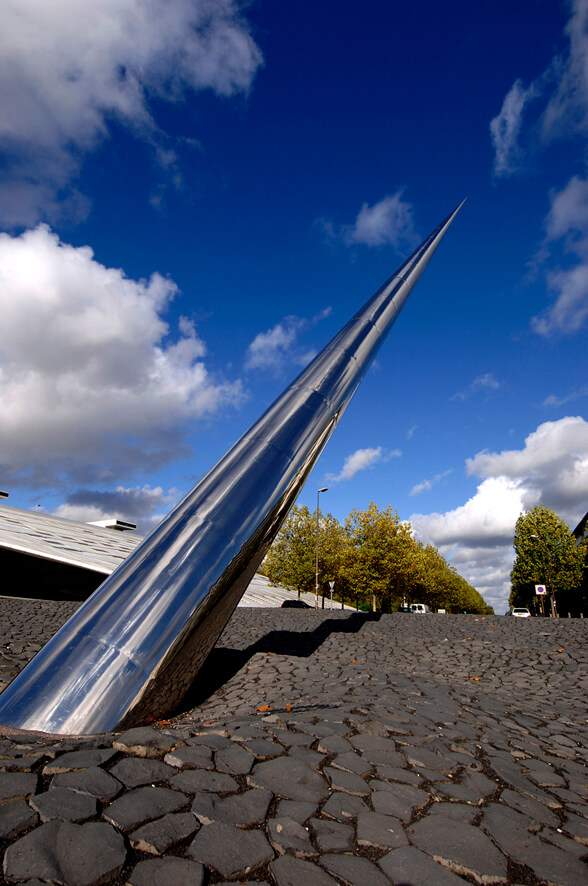 Commissioned: 1992
The Axis of the Earth, the emblem of Cité Descartes, the work of Piotr Kowalski, is a 32.5 m stainless steel structure, inclined at an angle of 48.51° to the North. It points to the location in the sky where the Alpha star of the Little Bear shines. Also known as the North Star, it is one of humanity's earliest navigational guides and the star around which the constellations of the Northern hemisphere revolve. The Axis of the Earth emerges at the centre of a roundabout on a floor of slabs formed from cracked black lava from the Massif Central region, which brings to mind the creative geological forces of the region. Short vegetation punctuates the irregular design layoutof the slabs.
© Epamarne / Eric Morency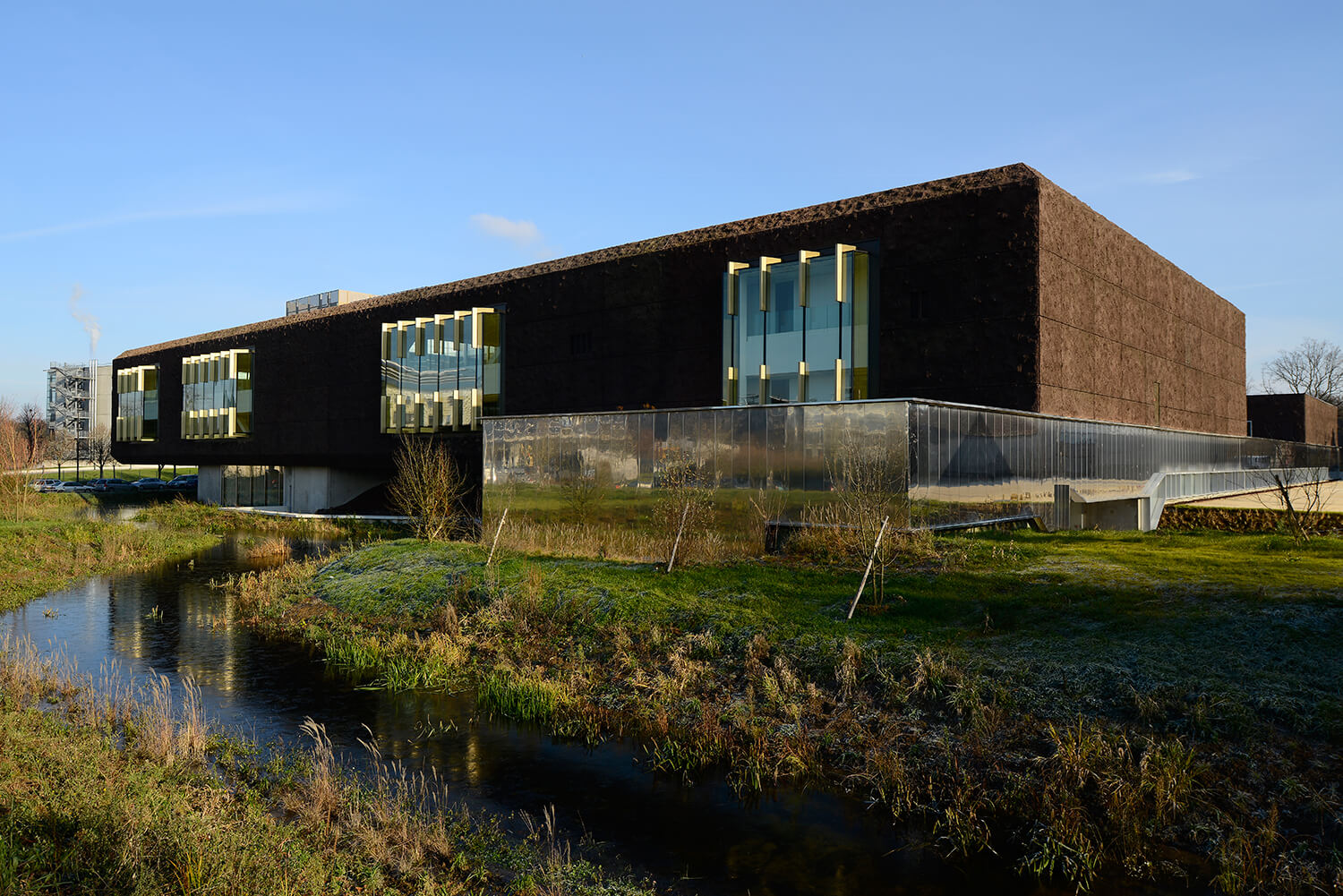 GEORGES PEREC UNIVERSITY LIBRARY
Project owner: Icade Promotion
Project manager: Agence Belus et Henocq
Commissioned: 2013
The Ferme de la Haute-Maison, which lends its name to the Joint Development Zone of Cité Descartes, is an archetypal example of the fortified Briardes farms that dot the region.
Bought by EpaMarne in 1975, the farm was sold to University Gustave Eiffel.
The agency in charge of the rehabilitation chose to preserve certain existing elements for their heritage (frames, walls, envelope). The northern part, which was badly damaged, was demolished to welcome the Georges Perec University Library. This HEQ-certified building forms the border of the Northern part of the farm-yard, which has also been remodeled to provide students with outdoor space. The existing moat has been restored and refurbished, helping to drain rainwater and regulate the site's temperature and humidity. Landscaping treatment provides this building with a quality green setting. The southern wing of the farmhouse has been restored to accommodate the Student's House.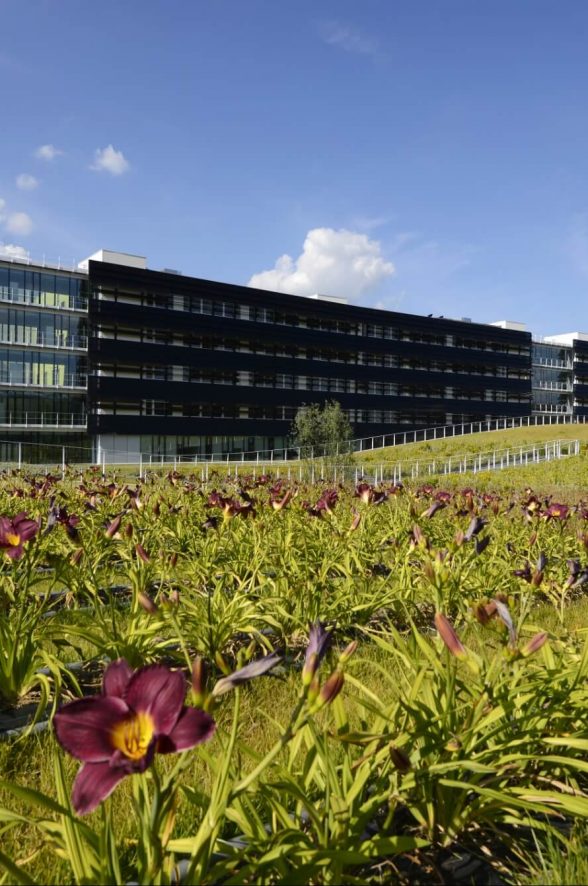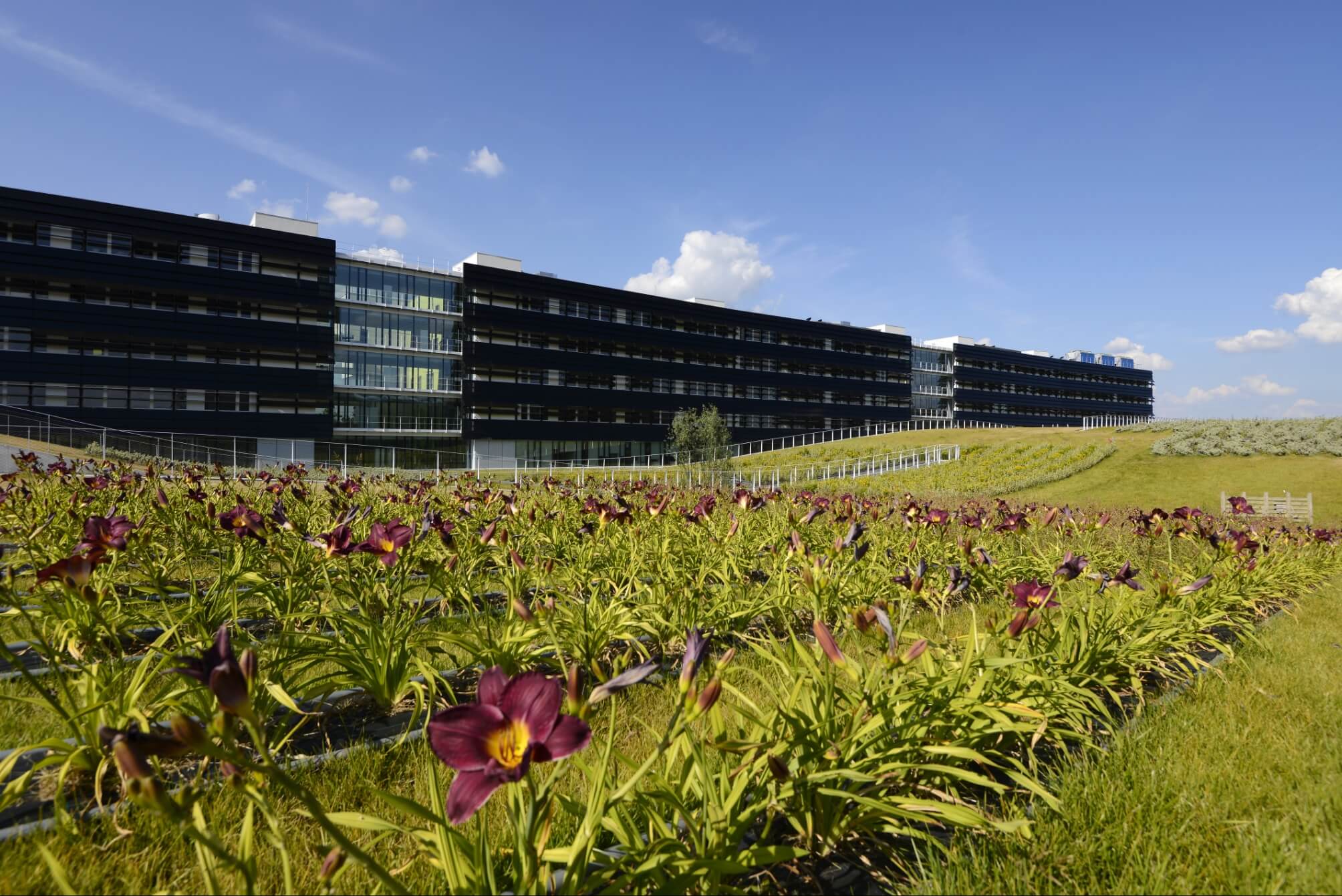 Project owner: Ministry of Ecology, Sustainable Development and Energy and the Ministry of Higher Education and Research
Project manager: Jean-Philippe Pargade
Commissioned: 2014

The Bienvenüe, a 42,000 sqm renewable energy tertiary building, houses 1,200 researchers in the most efficient and advanced research and testing laboratories in the field of sustainable cities: Université Gustave Eiffel, Efficacity, CSTB…
This world-class, international-level scientific and technical centre is exemplary in terms of sustainable development, urban civilisation, transport and trade management. Its architecture favours cross-disciplinarity between different areas of research.
More than a building, the Bienvenüe is an extension of cutting-edge urban planning. It features a landscaped space in the extension of the green axis of the university campus. The creation of a long, undulating concrete relief contrasts with the flatness of the site and creates an immense green space. It is set in the axis crossing the hall of the Ecole Nationale des Ponts et Chaussées and thus expresses the complementarity and sympathy between teaching and research.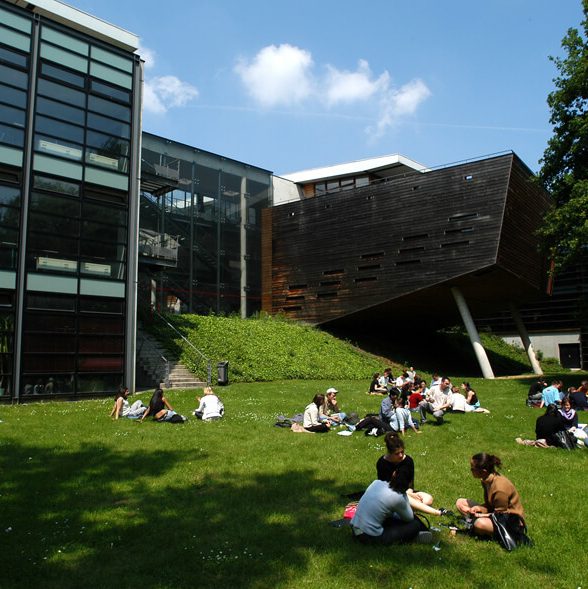 Project owner: Conseil Régional d'Ile-de-France
Deputy project owner: EpaMarne
Project manager: Atelier Bauve Architectes
Commissioned: 1995
Located on a very elongated site, this centre of economic and humanities and city science comprises a succession of buildings that blend into the environment of the neighbouring woods and pond.
These independent buildings are connected to each other at their uppermost levels by a bridge building. The modules are linked in pairs by means of atriums (inner courtyards) made of glass walls between raw concrete facades. The north wing houses amphitheatres and group rooms and is distinguished by the aesthetic use of wood (exterior cladding and joinery). The south wing is parallel in rough concrete, that mainly houses classrooms. Rough red cedar cladding introduces wood elegantly into Cité Descartes, that is otherwise dominated by metal and concrete.
© EpaMarne / Eric Morency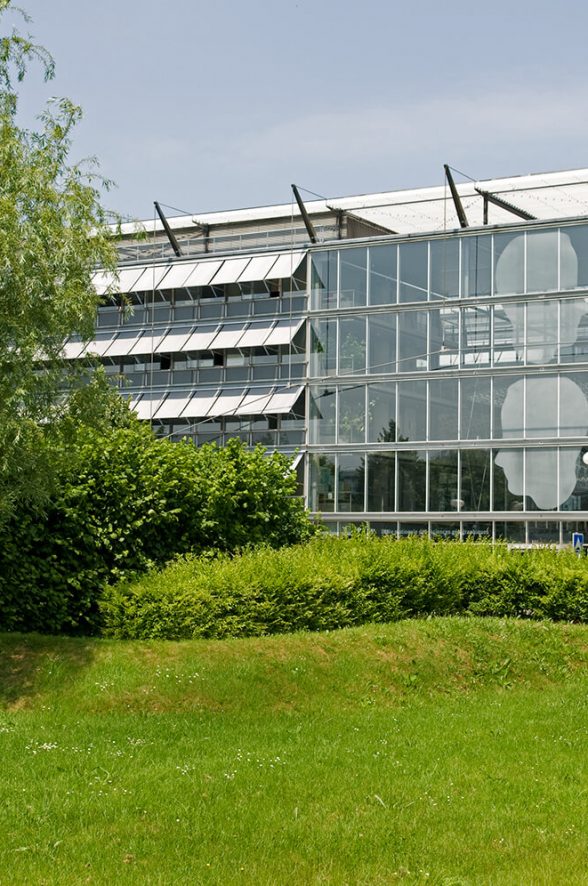 Project owner: Ministry of Equipment, Housing and Transport, National Geographic Institute
Deputy project owner: Directorate of Equipement Département of Seine-et-Marne
Project manager: Atelier d'architecture Chaix Morel et Associés
Commissioned: 1997
This 133-m long building is made up of three bars connected by a large crossing hall. It houses two prestigious schools, École Nationale des Ponts et Chaussées and École Nationale des Sciences Géographiques, and the Community of Universities and Establishments Paris-Est Sup. Like suspension bridges, two curved glass roofs cover the free space between the bars that house the offices and classrooms. A set of hangers, roof brackets and steel cables on the facade keep them upright. The entrance hall provides access to common meeting places: restaurant, cafeteria, foyer, multi-purpose room, library and amphitheatre.
© Descartes Développement & Innovation / Eric Morency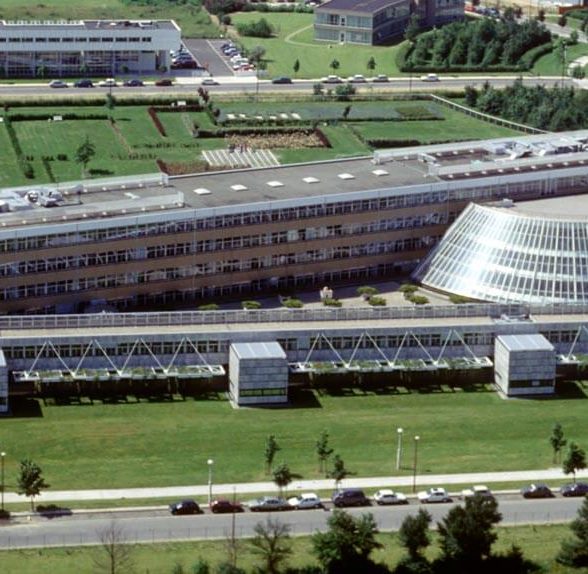 Project owner: Société BULL
Project manager: Bertrand Bonnier
Commissioned: 1988
Built for Bull's training centre, the Copernic building was purchased by the State as part of an extension to the University of Marne-la-Vallée. This flagship architectural project stands out owing to its special and distinctive architecture. It is in the form of a 220-metre bar that stretches like a spine flanked by two wings. Visible from the outside, a more imposing glass roof marks the main entrance. The variety of materials used in the construction make it possible to visualise the different components of the building's architecture: rocks of various colours assembled on an aluminium framework, honey-coloured facade panels, and transparent and opalescent glass for the skylights come together in a visually compelling manner.
© Descartes Développement & Innovation / Eric Morency

CORIOLIS – ECOLE DES PONTS PARITECH
Project owner: Ecole des Ponts ParisTech
Project manager: Atelier Thierry Roche et associés
Commissioned: 2014
This unique 5,000 sqm positive energy building is a distillation of innovations in terms of sustainable development. It accommodates students and researchers from the Paris-East cluster and research facilities with an international purpose. The Coriolis offers high-tech equipment for modelling and simulating very low consumption or positive energy buildings. It houses sensors designed to optimise its energy performance and is monitored by sociology laboratories (ENPC, CSTB).
© Descartes Développement & Innovation / Eric Morency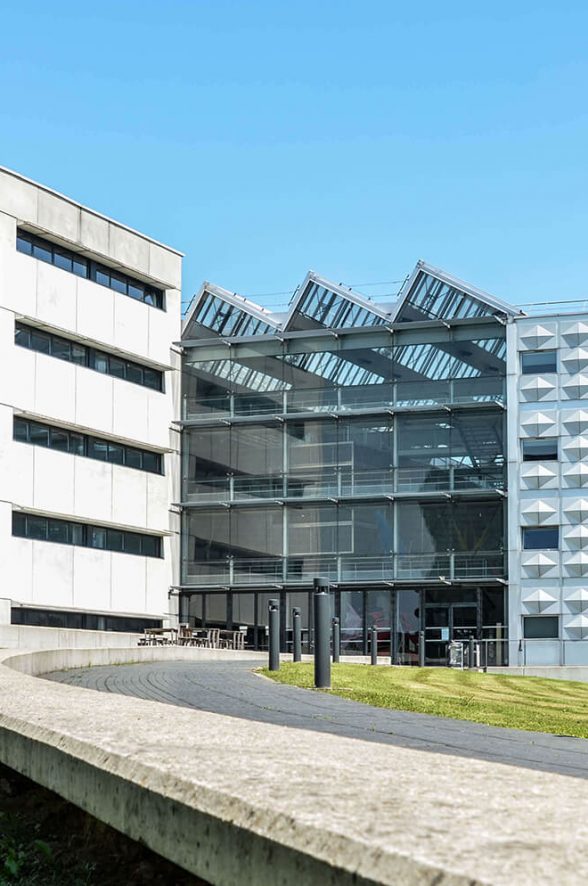 ECOLE D'ARCHITECTURE DE LA VILLE ET DES TERRITOIRES PARIS-EST
Project owner: Ministry of Culture
Deputy project owner: EpaMarne
Project manager: Bernard Tschumi Architectes
Commissioned: 1999
This school of architecture displays an impressive play of volume in rough concrete, arranged around a central hall adorned with glass, on a metal structure. While it houses common areas such as exhibition spaces, amphitheatres and cafeteria, it is also the place for all movement and all vertical and horizontal trafficsince the studios, workshops, offices and media library open onto this central hall. With its mixed structure (metal posts, concrete floors and walls) the building is a striking manifesto of the beauty of concrete.
© Descartes Développement & Innovation / Eric Morency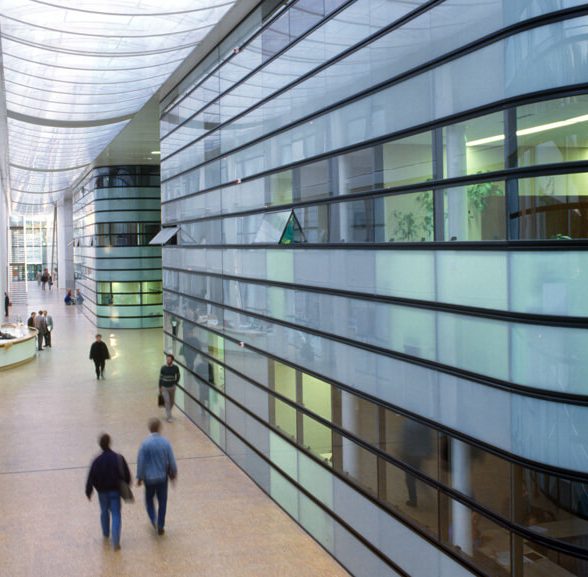 Project owner: Paris Chamber of Commerce and Industry
Project manager: Dominique Perrault Architecture
Commissioned: 1987
With its original, daring and futuristic architecture, the ESIEE Paris building meets the knowledge requirements of new technologies required by the Paris Chamber of Commerce and Industry. Its immense inclined plane, a metaphor for flight, draws a new horizon. Inside, the street-gallery lit by a glass roof constitutes a vast convivial space that enables free movement and gives access to both the laboratories and classrooms. Covering an area of 25,000 sqm, its construction required 4,000 sqm of PVC canvas stretched with bungee cords over arches of glued laminated fir. The design of the complex allowed research to be developed into new construction techniques and materials, such as glued glass, polyester, lexan and mail-order fabric.
© Descartes Développement & Innovation / Eric Morency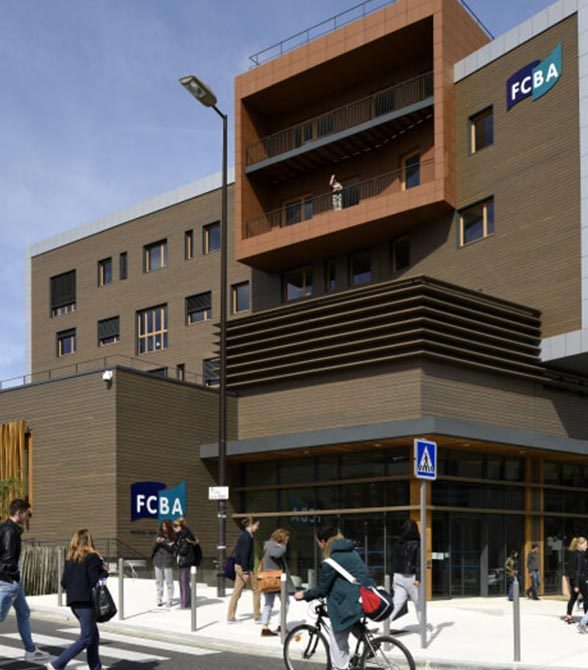 FCBA TECHNOLOGICAL INSTITUTE
Project owner: Wood and furniture Technological Institute
Project manager: Atelier 4+
Commissioned: 2015
As an industrial technical centre, FCBA (Forest Cellulose Timber and Wood Furniture) is charged with the mission to promote technical progress, participating in the improvement of performance and quality assurance in the industry. Its field of action covers all forest, pulp, wood and furniture industries: forestry, pulp, logging, sawmill, carpentry, joinery, structure, wood-based panels, furniture, packaging and various products.
The building is functional and exemplary in the use of wood in all its forms. It includes 4,000 sqm of offices and 6,600 sqm of workshops and laboratories. The building is part of a High Environmental Quality (HEQ) approach, with a focus on French wood and a sustainable management approach integrating energy savings and control of the associated environmental aspects.
© Descartes Développement & Innovation / Eric Morency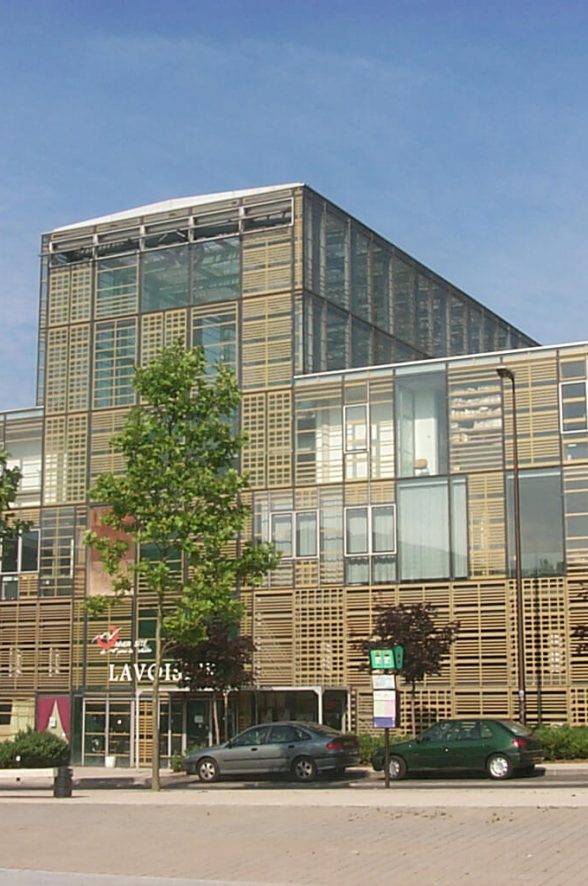 Project owner: Ministry of Higher Education and  Research
Project manager: Françoise Hélène Jourda et Gilles Perraudin
Commissioned: 1993
With an architectural expression that complements its neighbour, François Rabelais, this building houses teaching and research rooms as well as offices. The glass façades are screen-printed with gold paint strips, thus avoiding the greenhouse effect and providing an unusual visual boundary. This grid also activates the glass roof.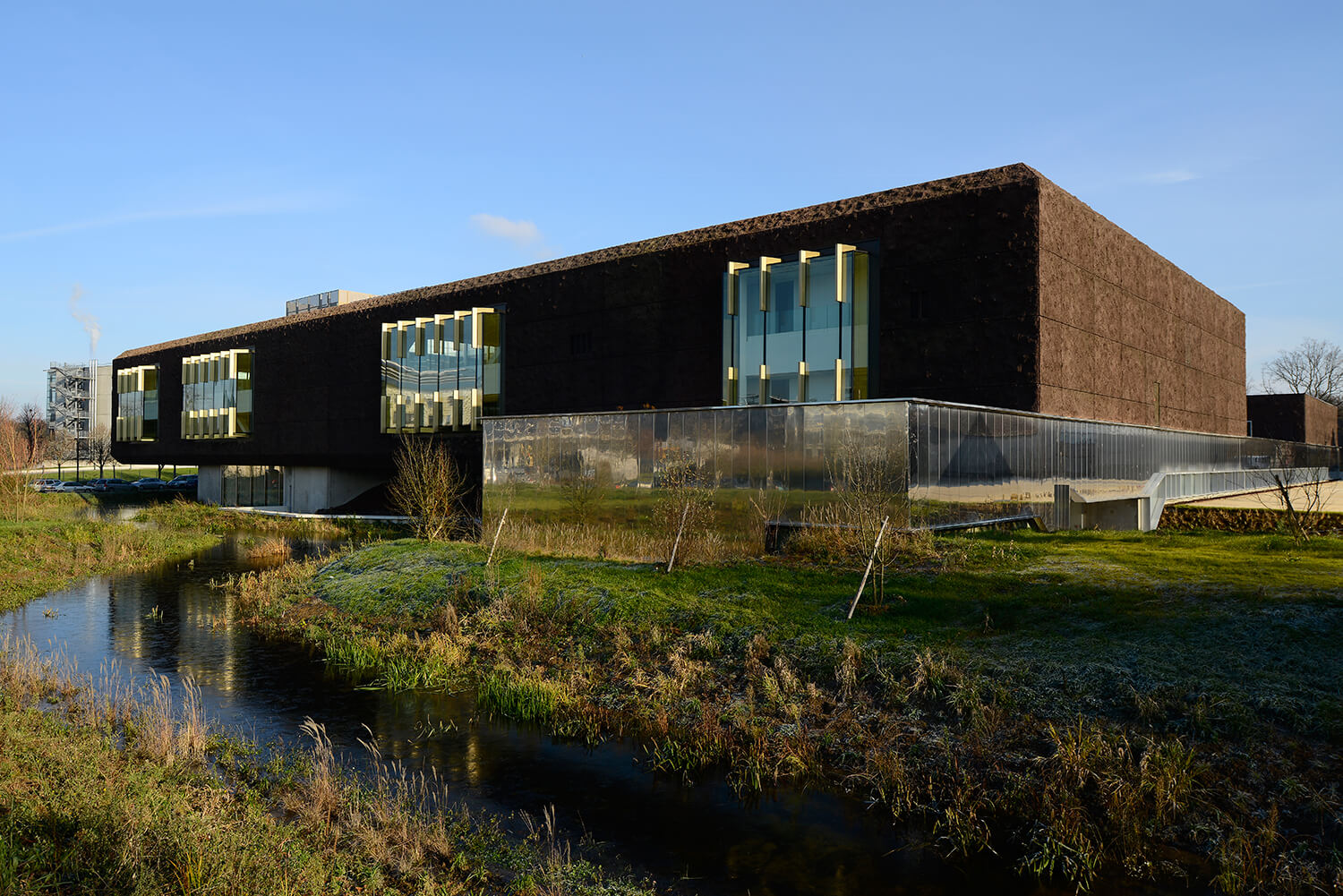 Project owner: Icade Promotion
Project manager: Agence Belus et Henocq
Commissioned: 2014
The Ferme de la Haute-Maison, that lends its name to the Joint Development Zone of Cité Descartes, is an archetypal example of the fortified Briardes farms that dot the region. Bought by EpaMarne in 1975, the farm was sold to Gustave Eiffel University. The farmhouse, in its South wing, has been rehabilitated to accommodate the Student House. In order to highlight the solidity of the walls and the beautiful frames, a single roof covers the whole and stretches in a single line over a length of more than 150 m. The roof slopes down in places to return to the original three-part composition of the old farmhouse. The northern part of the courtyard of the farmhouse, which has also been restored, offers students an outdoor space. The northern part of the building, which was also badly damaged, houses the Georges Perec university library.
© Descartes Développement & Innovation / Eric Morency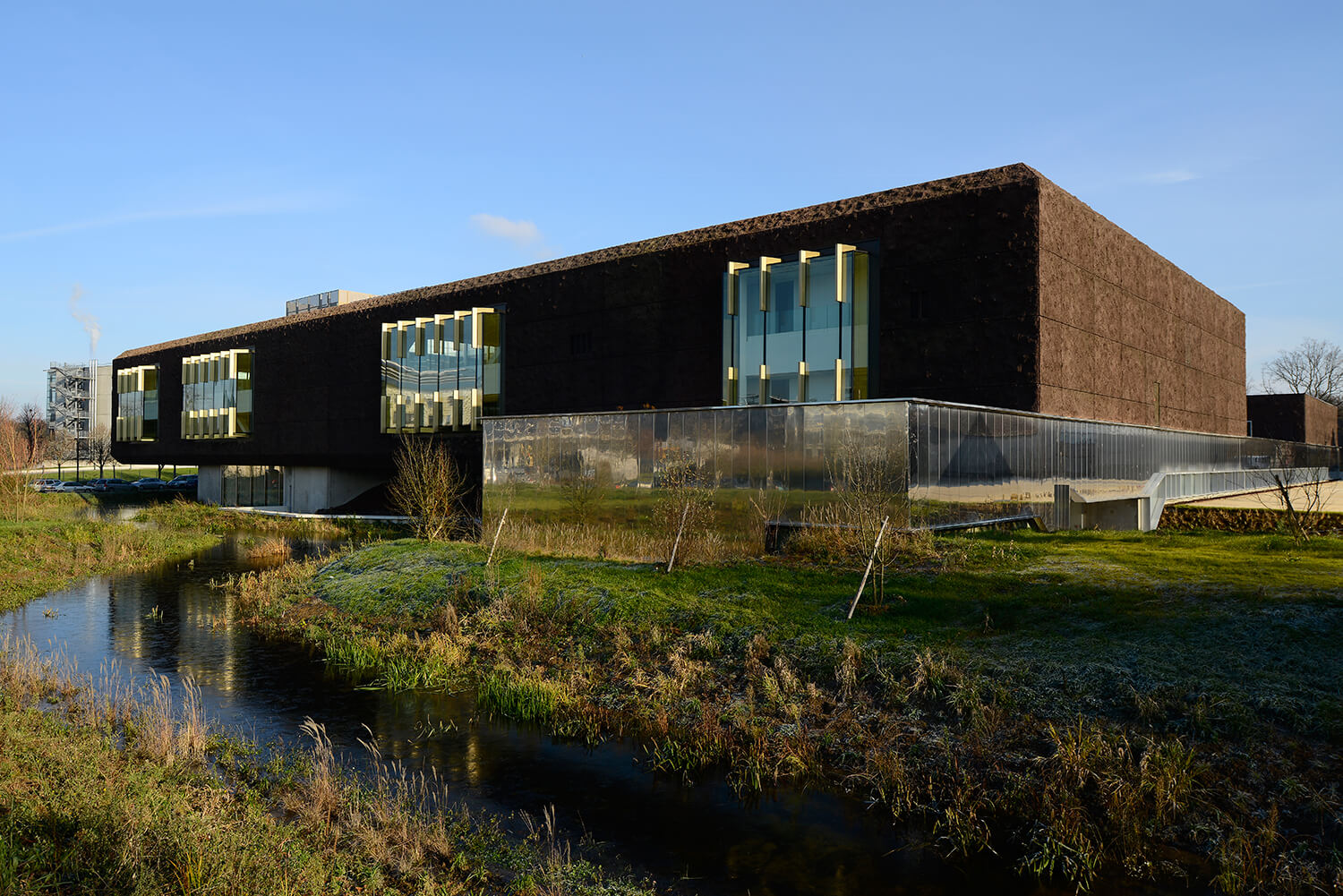 MAISON DE L'ENTREPRISE INNOVANTE
Project owner: Communauté d'Agglomération Paris-Vallée de la Marne and Chamber of Commerce and Industry of the 77
Project manager: BELLECOUR architectes
Commissioned: 2018
The Maison de l'entreprise innovante is one of the cornerstones of the support provided to companies in the region. BELLECOUR architects have designed this High Environmental Quality (HEQ) building in the image of the Sustainable City. Boasting wells of natural light, it is open to the environment, and surrounded by generous vegetation. From the outside, the inventiveness of the House, with its neat and adaptable lines, coffer a visual feast for the eyes. This vast space of 3,000 sqm, on three levels, encourages ease of dialogue for companies to work together. On the ground floor, for example, Incubateur Descartes helps new entrepreneurs to develop their ideas and to launch their projects. Incubatees can then move to the floors where the business nursery is located, which supports them in the development of their activities. Finally, a business hotel ensures the transition between the nursery and the moment when the business takes flight. 
To enrich its support, the Maison also hosts Fablab Descartes, a fabrication laboratory open to all, as well as Descartes Développement & Innovation.
© Descartes Développement & Innovation / Eric Morency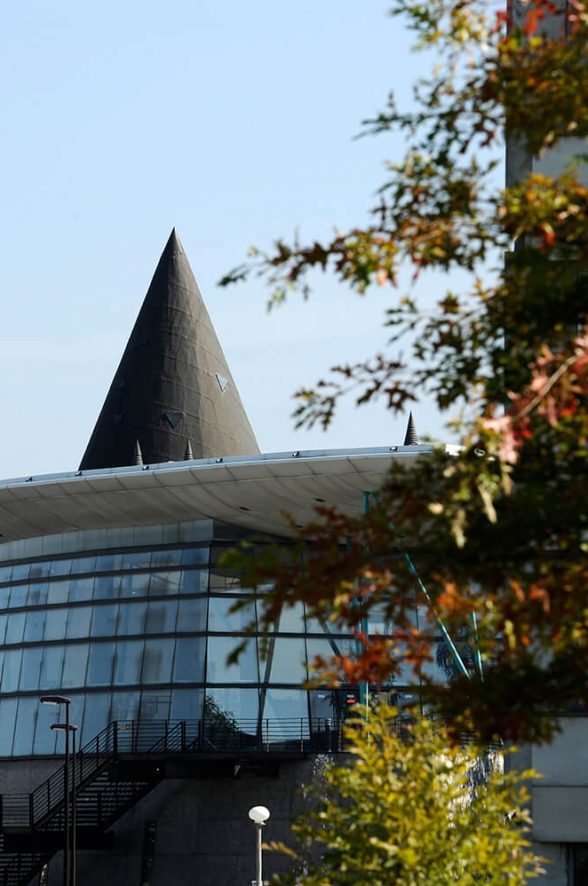 Project owner: Ministry of Higher Education and Research
Project manager: Françoise Hélène Jourda et Gilles Perraudin
Commissioned: 1993
Françoise Hélène Jourda and Gilles Perraudin have curated a building that is utterly different from its neighbour Lavoisier, both in function and architectural expression. It is a remarkable and interesting work in concrete. The amphitheatre building, located opposite the old briarde farmhouse of the Haute-Maison, features an imposing concrete base which, concealed to half height, gives it an Egyptian appearance. The walls of the upper floor are made of glass all the way to the roof, which overhangs the entire space and ends in the shape of an aeroplane wing. The entrance hall lies at the centre and rises up in the shape of a teepee.
© Descartes Développement & Innovation / Eric Morency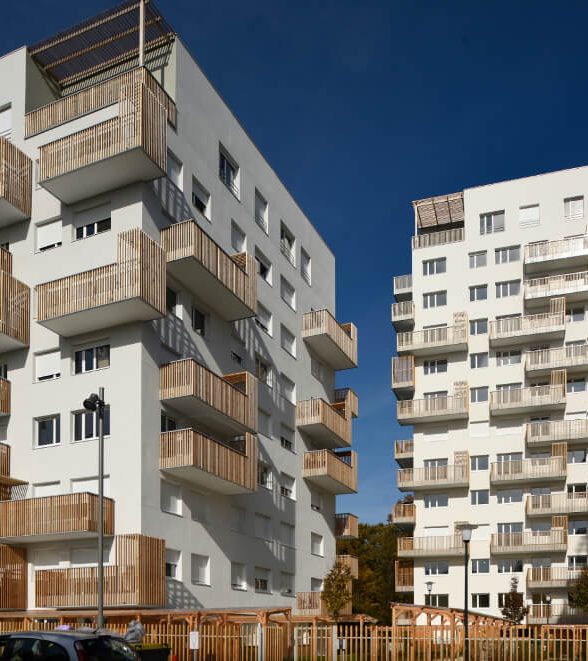 INTERNATIONAL STUDENT RESIDENCE
Commissioned: 2010
The student living space is designed impeccably in accordance with high environmental quality criteria. The residence comprises three buildings, totalling 6,000 sqm, in a quiet, wooded setting. It features coworking and coliving areas that are a source of conviviality, relaxation and sharing. The International Student Residence welcomes doctoral students and researchers on mobility from Gustave Eiffel University.
© Descartes Développement & Innovation / Eric Morency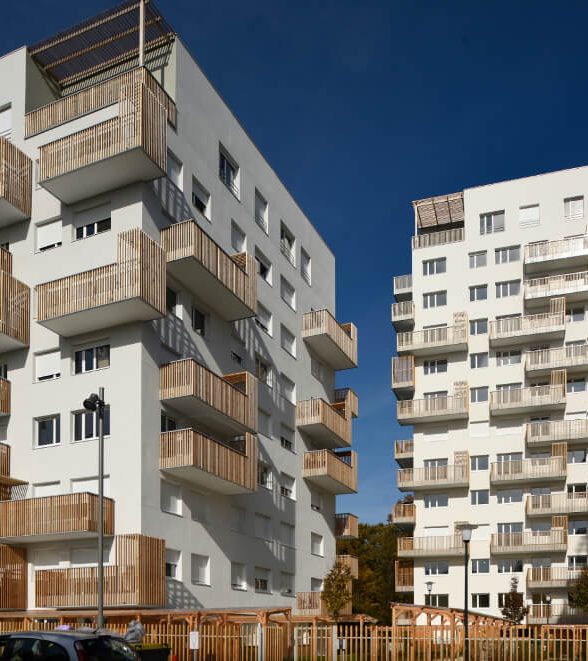 Project owner: ADIM Paris Île-de-France
Project manager: Saison Menu Architectes Urbanistes and Art'Ur architectes
Commissioned: 2021
This 23,000 sqm mixed-use building complex includes one of the highest timber-frame towers in France (11 floors with a concrete core, of 37 metres).
It consists of three residential buildings (youth residences), shops at the ground level, a silo car park (on three levels) and a building with flexible usages (created to serve as offices or housing). This will be available in 2022 and will house a 3,000 sqm health centre, as well.
Treed It has very high level of environmental performance, with NF Habitat HQE certification at the "Very High Performance" level for residential buildings and a 20% improvement in RT2012 standards. The wooden tower has been awarded the Bâtiment Biosourcé label.
The use of a wood/concrete material mix will enable a better environmental footprint to be obtained over the lifetime of the buildings. The student residences and the young workers' hostel are also equipped with a heat recovery system for domestic waste water called "Power Pipe".
© Descartes Développement & Innovation / Eric Morency